We've read the reviews across the web for the MSR WindBurner Stove System and summarize the results below: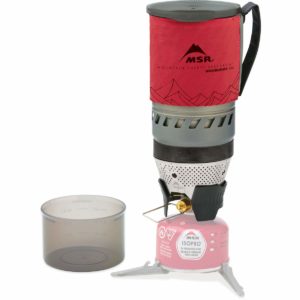 Does great in the wind.

Also pretty good at cooking (as opposed to just boiling water).

Packs up easily and conveniently.

Good flame control, whether it is simmer, low or high.

Works better in the wind than JetBoil.

Useful indicator at top of burner that indicates if flame is on or off.

The skillet accessory is nice.

Easy to pour.
Expert Reviews
Extremely windproof.

Doesn't boil water as quickly as the Reactor, but is better at cooking (as opposed to just boiling).

Falls short of the JetBoil with respect to basic features.

Most fuel efficient integrated stove system, but only by a small amount.

Far superior to JetBoil Flash and MiniMo in the wind.

Control valve is big and easy to use.

Unlike the Reactor, the Thermal Trip Mechanism (to prevent the stove from dangerously overheating) can be re-set in the field (but only once, and then it is rendered permanently inoperable.)
Reasons NOT to

buy:
User Reviews
Lack of an integrated igniter on the Windburner makes the JetBoil a superior option.

Don't buy the MSR piezo igniter accessory as it doesn't work well.

Sleeve on the pot can be finnicky.

Lid on the pot can be finnicky.

Can be tricky to light in the wind, but once it is lit, it stays lit.

It can be hard to make it simmer.
Expert Reviews
Can't achieve a true simmer and if you turn gas down too low, flame will go out.

Even though cook pot advertises 32 oz, you can only fill it to 20 oz to avoid boil-overs.

System is top-heavy when loaded with water so using the base stand can be important.

Lack of integrated igniter makes the stove only windproof once you successfully light it.

Heavy, relative to other integrated stoves.

Very poor simmering capabilities.

The coupling of the pot to the burner is not very secure.
Summary:
The MSR WindBurner Stove System boils water extremely fast. Although getting the stove lit in the wind can be tricky, once burning, it is nearly impervious to wind. It is a bit heavier and doesn't simmer very well, but when it comes to boiling water fast in the wind, it can't be beat.
Multimedia:
Note: User rankings were reviewed across the web and expert rankings were reviewed on sectionhiker, outdoorgearlab, digitaltrends, elevationoutdoors.